---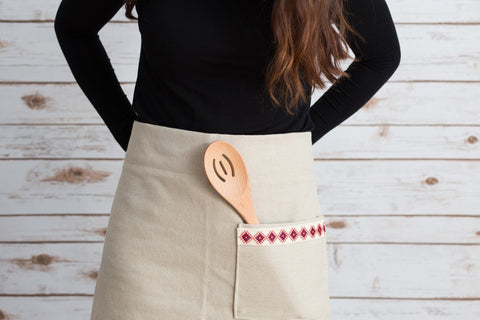 Darzah Almas Apron
---
"Almas" means diamond in Arabic.
Hand-embroidered by refugee and low-income women artists in Palestine.
Made with locally sourced cotton blend fabric and cotton embroidery threads. 
22" x 18" with 18" straps
About Darzah:
Darzah is a non-profit, ethical fashion brand specializing in Palestinian "tatreez" embroidery, a centuries-old art form, traditionally passed down from mother to daughter. Each of our pieces is hand-embroidered and 100% handcrafted in the West Bank. Our mission is twofold: 1) to create economic opportunities for refugee and low-income women artisans, and 2) to celebrate tatreez embroidery and Palestinian cultural heritage. 
Darzah is an project of Child's Cup Full, a non-profit women's economic empowerment initiative based in Zababdeh, a village located in the northern West Bank. We are fair trade certified by Fair Trade Federation, which means we are committed to paying fair wages to our employees, implementing sustainable manufacturing practices, and supporting marginalized communities. In 2015, unemployment rates for young women in the West Bank were as high as 63%. We aim to provide training and job opportunities for some of the most marginalized individuals in the northern region specifically, where poverty rates are especially high. 
All of the leather in our products is sourced from a family-run leather manufacturer in Khalil/Hebron. Our artists in the Zababdeh region collaborate with highly skilled shoe and bag makers in Khalil/Hebron to create beautiful, one-of-a-kind products that are 100% made in Palestine. 
Each purchase supports our training and employment programs in the West Bank. 
---
More from this collection