---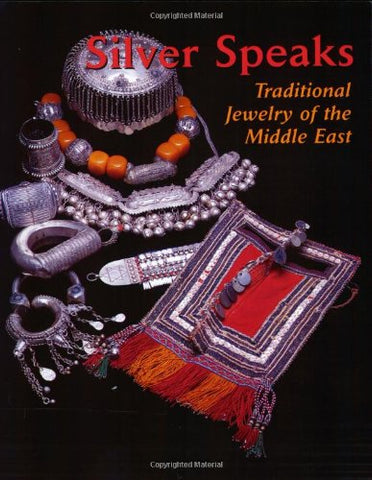 Silver Speaks: Traditional Jewelry of the Middle East
---
This handsomely illustrated publication of the Bead Society of Greater Washington serves as a companion book to the exhibition "Silver Speaks: Traditional Jewelry of the Middle East," co-curated by Ellen N. Benson and Marjorie Ransom, shown at The Bead Museum in Washington, D.C., October 27, 2002, to August 26, 2003. The book extends the show's reach and enhances understanding of the rich cross-cultural heritage represented in these age-old forms of personal adornment. More than 50 photographs by Dr. Robert K. Liu, co-editor of Ornament magazine render in exquisite detail the beauty and diversity of traditional jewelry from Oman, Yemen, Saudi Arabia, Syria, and Egypt. Drawn from the collection of Marjorie Ransom, who assembled the pieces over three decades as a student and diplomat in the Arab world, these eloquent silver ornaments are an enduring testament to a way of life that is disappearing in the rapidly evolving Middle East. The book presents these treasures in the context of that traditional way of life. Author Joyce Diamanti tells the story of the women who wore them and the men who made them-Muslims, Jews, and Christians-people who lived settled lives in cities, towns, and villages, as well as itinerant traders and craftsmen, and nomadic Bedouin who roamed these arid regions in search of pasture for their herds. In surveying local and regional jewelry traditions, she examines the many exotic influences that throughout history have impacted and shaped personal adornment in this crossroads of continents and cultures.
In a perceptive curator's statement, Ellen Benson looks at the Silver Speaks exhibition and companion book as significant firsts in the continuum of the Society's and the Museum's longstanding interest in ethnic jewelry as manifested in earlier exhibits and educational programs. She seeks to foster appreciation of this silver folk jewelry by placing Middle Eastern traditions of personal adornment within the larger field of Islamic ornamentation and culture.
In the Introduction, Shelagh Weir, former curator at the British Museum and presently a Senior Research Associate at the School of Oriental and African Studies in London, focuses on the many functions this jewelry once had in the lives of women in the Middle East, where it could proclaim a woman's marital status, assert her ethnic identity, display her family's wealth, providing her financial security, enhance her feminine allure, promote her health, and protect her from misfortune. In two textual contributions, Robert Liu covers tools, materials, and techniques used by Middle Eastern silversmiths and examines recurring shapes and patterns in traditional silver jewelry and the meanings of these motifs.
---
More from this collection